The Dell'Oro Group has just wrapped up the 4Q21 reporting period for all the Telecommunications Infrastructure programs including Broadband Access, Microwave & Optical Transport, Mobile Core Network (MCN), Radio Access Network (RAN), and SP Router & Switch. The data contained in these reports suggests that total year-over-year (Y/Y) revenue growth in the telecom equipment market slowed in the fourth quarter to 2%, however, this was not enough to derail full-year trends.
Preliminary estimates suggest the overall telecom equipment market advanced 7% in 2021, recording a fourth consecutive year of growth, underpinned by surging wireless revenues and healthy demand for wireline-related equipment spurred on by double-digit growth both in RAN and Broadband Access. Total worldwide telecom equipment revenues approached $100 B, up more than 20% since 2017.
In addition to challenging comparisons, we attribute the weaker momentum in the fourth quarter to external factors including COVID-19 restrictions and supply chain disruptions.
The analysis contained in these reports suggests the collective global share of the leading suppliers remained relatively stable between 2020 and 2021, with the top seven vendors comprising around 80% of the total market.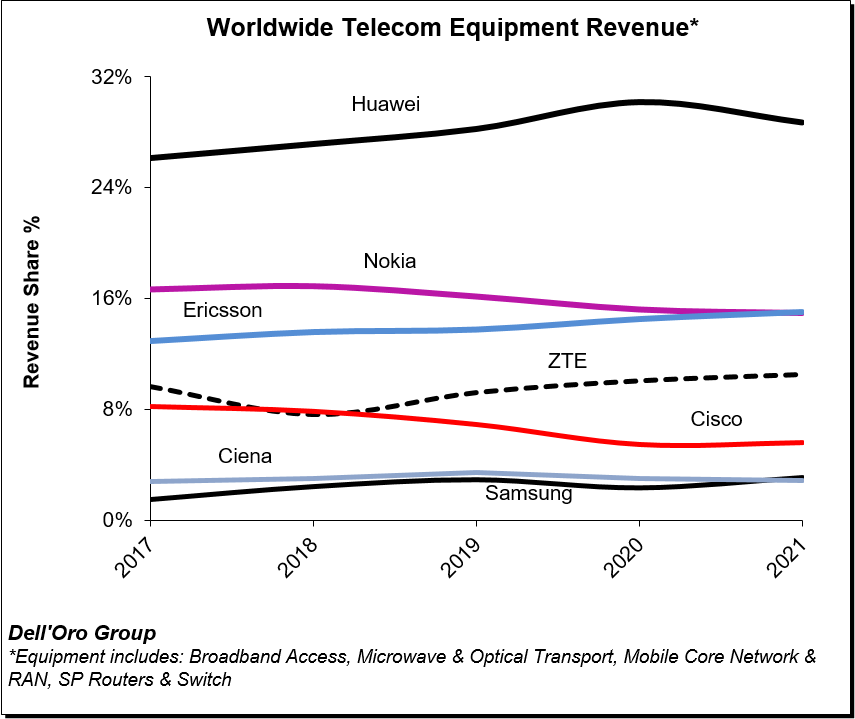 Ongoing efforts by the US government to curb the use of Huawei's equipment is impacting the company's position outside of China. Even so, Huawei continued to lead the global market, underscoring its grip on the Chinese market, depth of its telecom portfolio, and resiliency with existing footprints.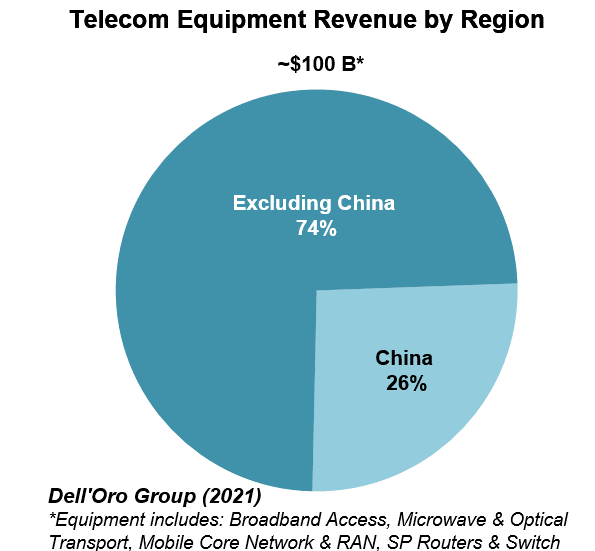 Initial readings suggest the playing field is more even outside of China, with Ericsson and Nokia essentially tied at 20% and Huawei accounting for around 18% of the market.
The relative growth rates have been revised upward for 2022 to reflect new supply chain and capex data. Still, global telecom equipment growth is expected to moderate from 7% in 2021 to 4% in 2022.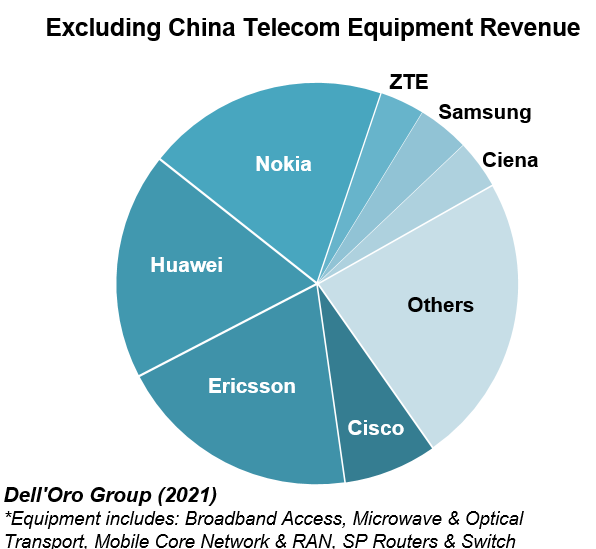 Risks are broadly balanced. In addition to the direct and indirect impact of the war in Ukraine and the broader implications across Europe and the world, the industry is still contending with COVID-19 restrictions and supply chain disruptions. At the same time, wireless CAPEX is expected to surge in the US this year.
Related article: Huawei retains leadership in 5G RAN portfolio
By Stefan Pongratz,Vice President and Industry Analyst at Dell'Oro Group